Like ping pong paddle and badminton, Pickleball is a sport for all ages and fun if you are playing with the appropriate equipment. Once you have brought your best pickleball paddle and the pickleball shoes, then you need pickleball balls to start your game immediately. We will review different pickleball balls and their types in this well-researched guide because all the balls are not similar.
There are a lot of brands like Onix, Dura, and Gamma etc. selling indoor and outdoor pickleball balls that are approved by the USAPA for tournament play.
Pickleball Balls
A pickleball ball is similar to a wiffle ball. Pickleball balls are made of resilient plastic and come in different colours. The balls are made through a relatively shaped one-piece manufacture process, after cooling, holes are drilled beyond the ball. All the balls are not similar, some balls come with big holes, and some are small. The ball has a different weight and size. Many novices think that the balls need to swap on a consistent basis, but it depends on your frequency of play.
If you don't know How to play pickleball and its rules read more here.
Pickleball Balls Indoor vs Outdoor
There are two types of balls available in the market; the indoor and outdoor balls; it is easier to differentiate when you recognised the ball a little more. Let's explain
Indoor Pickleball Balls
The indoor balls are lighter (0.8 oz), softer, and smaller than the outdoor balls. It has 26 more massive holes because there is no need to fight the weather or wind. The indoor balls are easier to control but tougher to hit hard. It is designed to play on wood or solid surface.
The indoor balls are available in almost all rainbow color; white, orange, green, blue, yellow, pink or black, each venue have a different color surface so choose the color which fit your place.
The USAPA governed a legal bounce obligation for pickleball ball is that the ball once dropped from 78 inches height must bounce less than or equal to 34 inches.
The durability and bounce of the ball are affected by many conditions like;
How many times it is hit hard
It's material
The brand/manufacturer
The indoor ball is used inside are and last longer than outdoor balls
Outdoor Pickleball Balls
The Outdoor balls are weightier (0.9 oz) than indoor balls; it also tends to damage more rapidly as compared to indoor balls due to disclosure from the sun and uneven court surface. It has a smaller 40 holes and is especially design to hold the windy condition.
The sturdiness and the bounce of the ball is affected by many conditions like;
How many times it is hit hard
The surface upon which is played
The material of the ball
The temperature, the sunlight and the heat
The wind environments
The manufacturing process
The brand/manufacturer
The free balls are used outside the open area.
I know you have a lot of question in your mind about the material of the ball, its construction, its sturdiness, its brand etc. You will get all your answers in this guide just read it till the end; we will cover many aspects in the Buyers' Guide section of this post.
Let's look at the compiled list of the best pickleball balls of 2023
Best Pickleball Balls of 2023 | Indoor and Outdoor comparison Table
High Quality | USAPA Approved | Trusted & Tested
Best Pickleball Balls 2023 | Products Overview
1. Onix Pure 2 – Best outdoor pickleball ball (Editor's Choice)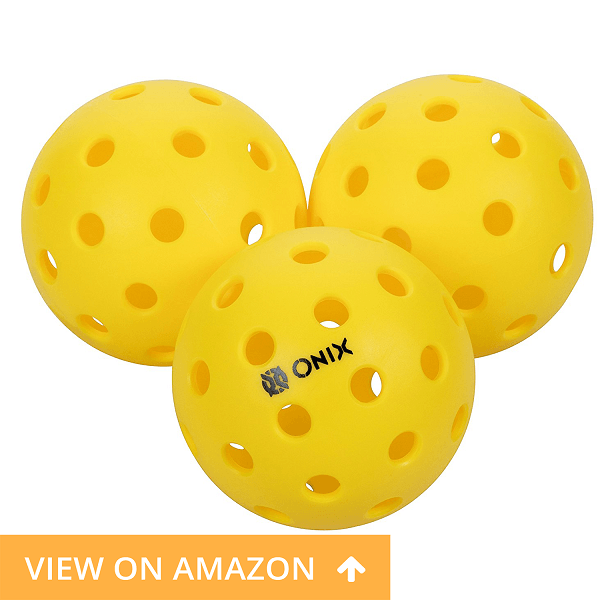 If you are seeking a high-quality outdoor pickleball, then I would like to recommend you the Onix Pure 2. Its yellow color is obvious. The small holes and heavyweight are extremely perfect for windy condition and fly straighter.
Also Read: Best pickleball paddle for control
It is ideal for outdoor use. We have tested its bounce while playing outdoors and it fulfills the USAPA obligation for the bounce rate and delivers the maximum unswerving and accurate bounce during the game. It gives a gratifying response when you smash the ball. It is recommended for outdoor use and aggressive play.
Let come to discuss its properties;
Feature
Its true flight technology offers great playability and definitive accuracy
Seamlessly round holes are tactically line up and drilled with care for finest balance
Its accurate bounce tech fulfills the USAPA requirement
Its two pieces balanced construction has flexible features that allow the ball to preserve its shape smash after smash.
Its unquestionable strength derives from the innovative welding process that joins the 2 pieces of pickleball together and resists splitting
The ball rapidly reaches its midpoint gravity when spinning and offers a great balance
Some more info about Product
Quantity: It's available in different pack set like 3, 4, 6, 8, 12 & 24
Weight: 0.88 ounces
Diameter: 
Pros
Reliable Bounce Technology
Brilliant Durability & Highly robust
Well Balanced
2. JUGS SPORTS – Best Selling Indoor Pickle balls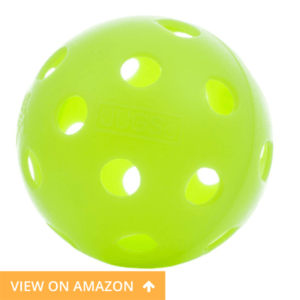 If you are searching for indoor pickleball then the jugs sports might be a worthy choice. These balls are made of soft plastic with a big and uniform hole. It's come in two different cheerful color packs; lime-green and white. When we test its bounce it comes to meet to USAPA requirements for a bounce height of 37" and competitive play.
The construction & design of the ball is exact and balanced. The Jugs claims that the ball will be last 30% longer than any other ball of its kind.
Feature
It's made for indoors but you can also use it outdoor
The soft plastic ball executes well on tiles, smooth hardwood, and cement court surface
Fantastic bounce height and top performance
Made in Taiwan
Some more info about the Product
Quantity: It's available in different pack sets like 6, 12 & 36
Weight: 0.81 ounces
Diameter: 2.875
Pros
The aggressive balls are preferred among innumerable pickleball groups
Durable and reliable
Slight softer and best for practice sessions
Officially approved pickleball balls Read more here
Cons
No replacement by the manufacturer due to cracking or breaking after used
3. TOP ball – Best Budgeted Pickleballs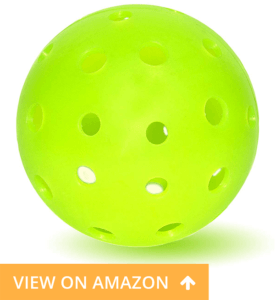 If you are looking for 40 holes high-quality outdoor pickle balls then TOP ball would be a good choice. It's available in neon-green, white, orange, and yellow colors. The ball flies straight and has a decent bounce. The design of the ball is robust and you can smash it hard without fear of its breaking or cracking.
It is recommended for outdoor play on the concrete floor.
Features
It's one-piece construction, which means that the balls have no weak points and preserve the integrity of the bounce.
The ball is rotationally shaped for strength.
It's 40 small holes can sustain any windy condition
It has a patented 40-hole pattern perfect for outdoor play
Tested and approved by USAPA
Some more info about the Product
Quantity: It's available in a pack set of 12 balls
Weight: 0.88 ounces
Diameter: 2.9375″
Pros
Its highly durable
1 piece construction
steadiness and longevity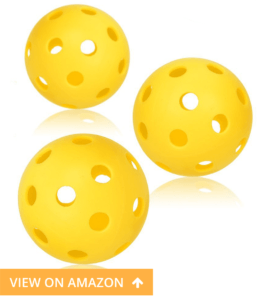 If you are looking for pickleball balls that can be used both indoors and outdoors then I recommend you to go for Amarey brand. The design of the ball is similar to whiffle balls. The 'hard plastic' high-quality material is used in the manufacturing process to increase the life span of the ball.
It delivers a terrific straight flight even in windy conditions and a reasonable bounce rate. The exceptional joint welding offers better strength and resists splitting.
Suggested for indoor and outdoor use, and aggressive players.
Features:
Best PE material is used for professional Pickleball players
It has a reliable bounce shot after shot with Trustworthy Bounce Tech that meets the bounce high requirement of the USAPA
The ball bounced comfortably on the gym floor and was used as indoors.
The ball fulfills USAPA obligations for outdoor tournament pickleball play
Some more info about the Product
Quantity: It's available in a pack set of 3 balls
Weight: 0.88 ounces
Diameter: 2″
Pros
Very economical
Finest quality balls
More accurate and powerful shorts
Flawlessly weighted & sized
It will surely excite everyone on the court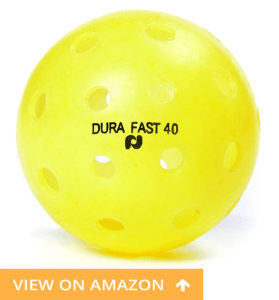 Dura is the oldest brand in the field of pickleball equipment and produces very high-quality equipment, they also invented the company named "Pickle-Ball, Inc". Let's move to discuss the pickleball that is produced by Dura.
The Dura balls are specially designed for outdoor use, but they claim that you can use them indoors. We have tested its plastic quality, and it is superb. The ball is made by injecting hard liquid plastic into the mold.
The mold is closed and rotated multi-directionally to feast the plastic equally around the walls of the frame and it's producing a sturdy one-piece ball.
The ball is available in white, yellow, neon, and orange colors. It is suggested for outdoor play off-the-cuff games and practices.
Features:
It is 1 piece of construction with 40 holes
The ball is approved by USAPA & IFP for tournament play
The ball is very craggy and sturdy but inelastic
There is officially approved pickleball balls Read here
Some more info about the Product
Quantity: It's available in different pack set like 6 & 12
Weight: 0.917 ounces
Diameter: 2.9375"
Pros
Faultless in terms of functionality
Grips the line fit without refraction
Made in China
Cons
Marginally larger and weightier
6. Gamma – Foam Quiet pickleball balls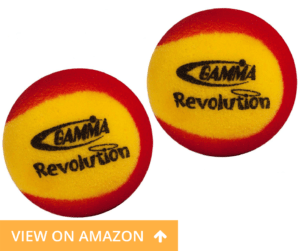 If you are living in an area with noise restriction or a noise ordinance is imposed in that area and you want to play pickleball without the ball making noise, then the answer is simple you should go for the Gamma Foam quiet pickleball.
The ball is made out of foam which helps to reduce the noise level, but the drawback is you would not get the plastic pickleball features.
Also, the ball is restricted, if you used it outside the wind and the rain can affect its flight.  The ball is available in yellow color and it is recommended for indoor use and practice sessions.
Features:
The ball is little smaller than traditional pickle balls but imperceptible
The foam ball features magnacore material offers a good bounce height of 32."
It low-compression core and lightweight design fly 75% slower than standard balls.
Best for kids under 10 years and playing on 36" court
Professional players can also use this ball to warmup.
Some more info about Product
Quantity: It's available in different pack set like 6 & 12
Weight: 0.917 ounces
Diameter: 2.9375"
Pros
Best for kids
Best for beginners to learn the essential of the games
Good for practices session
Approved by USTA/ITF
Cons
Not approved by the USAPA for tournament play
Best Pickleball Balls 2023 - Buyer's Guide
The Pickleball balls selection Guide will help you to choose which ball is best for you? A ball is chosen according to different criteria. The first to take into account is your level:
Are you a professional player?

The Onix Pure 2 is out choice for professional players, as it is a trusted and old brand and produce quality pick balls.

Are you a beginner player?

You should look for the practice sessions balls like Jugs; it's the best-selling pickleball for novices.

Are you a regular/occasional player?

If you are a regular or occasional player, you may go for one piece pickleball like, Top Balls.

Are you a Kid or looking for a ball for your child?

If you are a kid or seeking for a pickleball for your child, then you can consider the foam ball from Gamma. These balls can also be used in noise restricted areas.
1. Indoor/Outdoor
We discuss indoor and outdoor pickleball in the intro section of this post, kindly read it here.
2. Bounce
The USA Pickleball Association governed a legal bounce obligation for pickleball is less than or equal to 34" that the ball once dropped from 78 inches height. So before choosing the ball make sure it fulfills the USAPA obligation for bounce height.
3. Material
Most of the pickleball are manufactured from thermoset (hard) plastic like melamine, acrylic, epoxies, etc.
High degree heat gives to these plastics and then successively cooled down and moulded into product shape by drilling the holes. The higher grade plastic is more suitable for outdoor balls.
4. Manufacturing & Durability
The pickle balls are manufactured with two methods;
Injection moulding (give two halve shape)
Rotational moulding (give one piece shape)
Mostly the outdoor balls are made through injection molding, while indoor balls are made through rotational molding.
The outdoor balls are much robust while the indoor balls are softer. Outdoor balls frequently crack at the joined, and indoor ball loses its outline with nonstop play.
5. Colour
The pickleball comes in different rainbow colors like white, orange, yellow, and green. The choice of color depends on different conditions; if you play on a sunny day, then yellow is brighter and more visible while if you play at mid-night time then a while would be a suitable color. If you play in the evening with low lights, then neon or lime green would be appropriate.
6. USAPA/IFP Approved
Pickleball must full fill all the obligations of the USAPA and IFP, read the official specification for pickle balls here.
7. Brand
As fame raises, many brands were twinkling on the market and claiming that they provide the best quality pickleball. After thorough research and compiles the best brands and show you in the form of a list, that includes Onix, Dura & Top for outdoor balls, and Jugs & Gamma for Indoor balls.
8. Price
The should also consider while choosing pickleball; the cheaper balls would be low quality and break a lot and leading to losing your hard-earned money, we have listed the balls with great prices, the list also contains the best-budgeted pickleball, if you are in a tight budget.
What are the Provisions of an Official Pickleball?
Here I extract the summary of the USAPA & IFP from their official website for Pickle balls; you can read full details here.
The ball should be made of a sturdy molded material with a smooth surface texture.
The ball must be one unchanging color.
A minor edge at the layer is allowed on condition that it does not disturb the flight of the ball.
The ball would have a diameter between 2.784" & 2.972".
The Ball should weigh between 0.78 and 0.935 oz.
The ball should bounce less than or equal to 34" when throwing down from a height of 78" onto a granite surface, The test should be performed at a temp of between 24-27 degrees C.
The Ball solidity should score between 40-50 on the Durometer D scale at 75-80 degrees F.
For indoor use, a minimum of 26 holes, while for outdoor use a maximum of 40 holes with proper spacing for straight flight.
The Pickleball brand name or manufacturer must be printed or stamped on the surface of each ball.
Pickleball Balls FAQs
Conclusion
the choice of pickleball balls is a crucial factor in enhancing your playing experience. The right ball should have a consistent bounce, be durable, and be suitable for the playing surface. Players should consider different factors such as ball construction, size, and weight to choose the best option that suits their skill level and playing style.
There are several types of pickleball balls available on the market, including indoor and outdoor balls, and those designed for different playing surfaces. It's essential to consider your playing environment when selecting a ball.
Apart from technical specifications, the right pickleball ball should also be comfortable to play with and offer a good grip to improve your accuracy and control. Players should also consider the price point when making their choice.
Overall, the best pickleball ball is subjective, and players should try out different options to determine the one that works best for them. By taking the time to choose the right pickleball ball, players can enjoy a more enjoyable and fulfilling playing experience.